Just when we thought we'd shared all of the marvelous press we've received so far this year, another post came our way!  EdibleDC.com, one of my favorite foodie sites, did a short piece on local food artisans within Union Kitchen and featured The Queens!  Edible DC is a quarterly magazine and website whose mission is to "nourish, support, educate and celebrate the growing local food community within and surrounding Washington, D.C,"  We are thrilled to be mentioned on this site and similar to the BISNOW piece, we were excited to learn that our story stood out among so many great stories in Union Kitchen.
And speaking of UK, their tasting was certainly a good look for us because after meeting the amazing people they invited, we seem to be poppin up all over the web!  Shoutout to the UK admin team and Edible DC writer (and fellow English teacher) Rhea Yablon Kennedy for spreading the word about our biz.
Click HERE to read the article.
 Post by April Wardlaw – CEO and Co-Founder of Popcorn Queens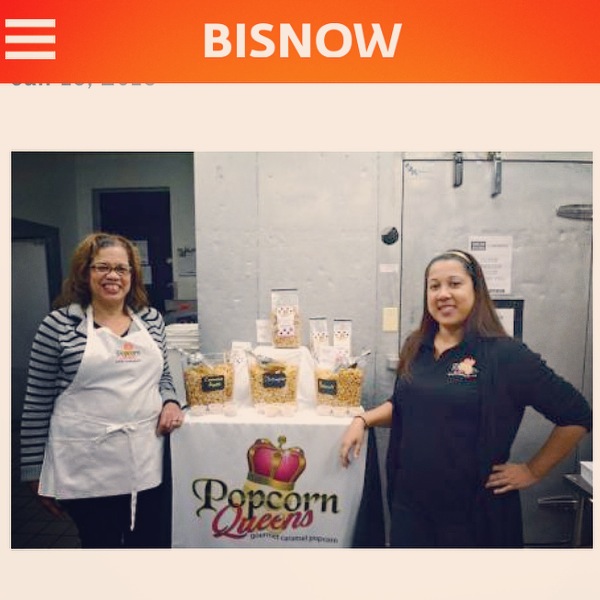 In our last post, we mentioned Union Kitchen's first open house and tasting of 2015.  Just to give you a little more info, UK is always reaching out to local markets, retaurants and specialty food shops, inviting them to come and taste the amazing products that come out of their kitchen.  Occasionally these businesses come in and set up private tastings however, the kitchen administrators decided that larger "tasting events" are in everyone's best interest.  Members will set up tasting tables and Union Kitchen would bring dozens of stores and restaurants to us.
This type of tasting event was scheduled for Jan. 9th and as the date approached, UK informed the participating members that they had 100 rsvps, many from DC food businesses and many members of the press.  One of which was a writer for BisNow.com who's name I am pretty sure is Laura.  She said she writes for many publications but it turns out that she used our photo and story for a piece about Union Kitchen.
There were so many Union Kitchen members at the tasting, and all of us have great stories.  So we were thrilled to be highlighted in this piece along with our UK friends Timber Pizza.
Check out the article HERE
Post by April Wardlaw – CEO and Co-Founder of Popcorn Queens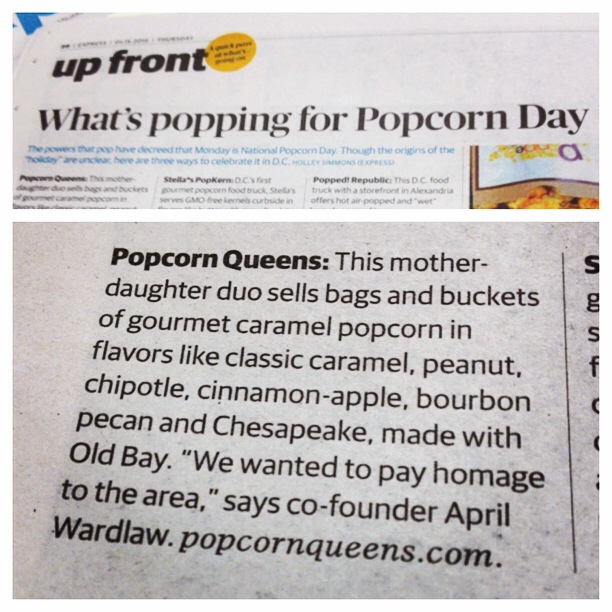 During Union Kitchen's open house and tasting this past Friday, January 9th, we had the pleasure of meeting Holley Simmons, Dining Editor for the Washington Post Express.  Last year we'd already identified Holley as "someone we need to reach out to asap" but we always made up an excuse to wait.  Let's wait on our website, let's wait on our packaging, better pictures etc.
Then, as fate would have it, at the UK tasting, after our website went live with new pictures, packaging and products, Holley appeared at our table ready to taste our popcorn.  As she was snacking, I mentioned that we would be interested in working with her on a piece to help spread the word about our company.  "Well I'm working on a piece now for National Popcorn Day, maybe I can squeeze you in?"  YES! I replied. SQUEEZE. US. IN.
The next thing I knew, my Mom and I received an email from Holley Wednesday evening, telling us to look out for a "small mention" in Thursday's express.  Neither my Mom nor I commute via the metro, but the students that I teach do.  So a fun fact is that I sent a message to a student offering him extra credit for bringing me an Express.  Well he brought me 10 copies so that worked!
I can't even express (pun intended) the feeling of opening up a publication and seeing your name.  And for me it was doubly exciting because I saw Popcorn Queens' name and MY name.  Needless to say, 2015 is off to a great start!
Check HERE to check out Holley's piece online.
Post by April Wardlaw – CEO and Co-Founder of Popcorn Queens