19 Jan

First Feature for Popcorn Day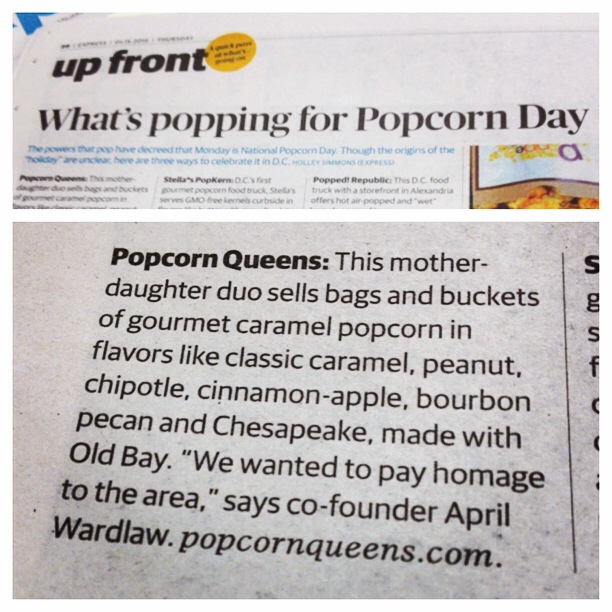 During Union Kitchen's open house and tasting this past Friday, January 9th, we had the pleasure of meeting Holley Simmons, Dining Editor for the Washington Post Express.  Last year we'd already identified Holley as "someone we need to reach out to asap" but we always made up an excuse to wait.  Let's wait on our website, let's wait on our packaging, better pictures etc.
Then, as fate would have it, at the UK tasting, after our website went live with new pictures, packaging and products, Holley appeared at our table ready to taste our popcorn.  As she was snacking, I mentioned that we would be interested in working with her on a piece to help spread the word about our company.  "Well I'm working on a piece now for National Popcorn Day, maybe I can squeeze you in?"  YES! I replied. SQUEEZE. US. IN.
The next thing I knew, my Mom and I received an email from Holley Wednesday evening, telling us to look out for a "small mention" in Thursday's express.  Neither my Mom nor I commute via the metro, but the students that I teach do.  So a fun fact is that I sent a message to a student offering him extra credit for bringing me an Express.  Well he brought me 10 copies so that worked!
I can't even express (pun intended) the feeling of opening up a publication and seeing your name.  And for me it was doubly exciting because I saw Popcorn Queens' name and MY name.  Needless to say, 2015 is off to a great start!
Check HERE to check out Holley's piece online.
Post by April Wardlaw – CEO and Co-Founder of Popcorn Queens